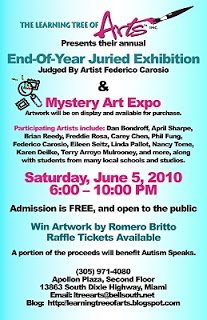 The Learning Tree of Arts, Inc. is pleased to present the first "Mystery Art Expo" (MAE). This fun, enticing and unique event is intended to integrate local professional artists and amateurs with young aspiring artists in the community, in an effort to encourage, inspire, and promote youth art.
Some of the participating artists are: Dan Bondroff, April Sharpe, Brian Reedy, Freddie Rosa, Carey Chen, Phil Fung, Federico Carosio, Eileen Seitz, Linda Pallot, Nancy Tome, Karen Deilke, Terry Arroyo Mulrooney, Mai Yap, Regina Jestrow, and many more, as well as, students from The Learning Tree of Arts, DASH, CRSH, New World, and other area schools and studios.
Artwork will be on display and available for purchase at a nominal price of $29.00 each. Proceeds from this event will benefit programs at The Learning Tree of Arts, and support the endeavors of Autism Speaks.
The "Mystery Art Expo" (MAE) will take place on Saturday, June 5, 2010, simultaneously with the annual End-Of-Year Juried Exhibition at The Learning Tree of Arts (Apollon Plaza, Second Floor, 13863 S. Dixie Highway, Miami) from 6:00 -10:00 PM. This year's show will be judged by local artists Federico Carosio and Karen Deilke. Admission is free, and open to the public.