The Learning Tree of Arts
Connecting creativity and kids
The Learning Tree of Arts is an established art studio that has been serving the community for over twenty-five years. We are an enrichment facility that offers weekly after-school, and weekend art and portfolio classes and workshops for children, PreK4 through high school.
The Learning Tree of Arts specializes in Portfolio Preparation classes for students who are interested in applying and auditioning for Miami-Dade County Public Schools-Visual Art Magnet Programs, and boasts a high success rate of acceptance from year to year at schools such as: Southwood MS, South Miami MS, Mays Conservatory, Miami Art Studio @ Zelda Glaser (MAS), New World School of the Arts, Design & Architecture Senior High (DASH), and Coral Reef Senior High. We also work with students who need to submit portfolios for college admissions.
Since the establishment of The Learning Tree in 1997, not only do we strive to bring a quality art program to our students, but also, bring support and awareness for the arts to the community. The Learning Tree of Arts coordinated and presented the "Celebrate Youth Arts Festival" for some eight years, bringing together some of Miami-Dade County's private and public schools to an event that showcased their talented students in both the visual and performing arts. This festival was hugely supported by many local businesses such as: Lexus of Kendall, Kendall Toyota, Jackson Hospital, South Motors Infiniti, Miami Acura, as well as many small local businesses in the area.
More recently, The Learning Tree partnered with Jackson Health Systems, and installed an annual student art exhibit in the main lobby at Jackson South Hospital, as well as, Jackson Memorial downtown. This event was suspended in 2020 due to the COVID pandemic.
We are conveniently located in the Pinecrest/Palmetto Bay area, on the east side of US1, across from The Falls Shopping Center.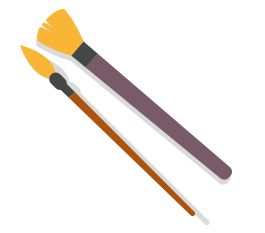 Apollon Plaza Second Floor